You are here
Back to top
From Scratch: 10 Meals, 175 Recipes, and Dozens of Techniques You Will Use Over and Over (Hardcover)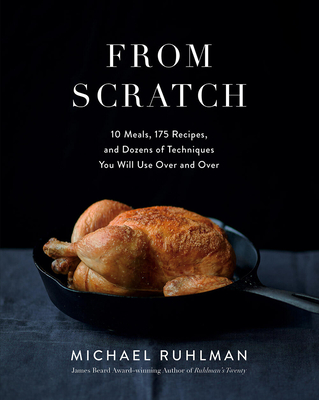 $40.00
Email or call for price.
Description
---
An indispensable new cookbook from James Beard Award-winning food writer Michael Ruhlman

From Scratch looks at 10 favorite meals, including roast chicken, the perfect omelet, and paella—and then, through 175 recipes, explores myriad alternate pathways that the kitchen invites. A delicious lasagna can be ready in about an hour, or you could turn it into a project: try making and adding some homemade sausage. Explore the limits of from-scratch cooking: make your own pasta, grow your own tomatoes, and make your own homemade mozzarella and ricotta. Ruhlman tells you how.
There are easy and more complex versions for most dishes, vegetarian options, side dishes, sub-dishes, and strategies for leftovers. Ruhlman reflects on the ways that cooking from scratch brings people together, how it can calm the nerves and focus the mind, and how it nourishes us, body and soul.
About the Author
---
Michael Ruhlman is the author of critically acclaimed books including Grocery (Abrams, 2017) and From Scratch (Abrams, 2019). He has collaborated on several bestselling restaurant cookbooks, including The French Laundry Cookbook, Bouchon, and Alinea.
Praise For…
---
"I love this book!! Michael Ruhlman is a genius cook and teacher. I love his voice, his recipes, his tips, and the way he makes great cooking totally accessible. Through the recipes for 10 classic meals, he covers how to cook almost anything. From Scratch inspires me to be a better cook and I know you'll feel the same way I do!"
— Ina Garten

"Like a master chef clarifying a murky stock into a crystal-clear consommé, Ruhlman detangles the complex web of technique, myth, and folklore that is cooking. With From Scratch, he embeds lessons in the context of things you really want to eat, and he shows how understanding one recipe really well can open the door to dozens of others. The lessons are set up in such a way that you can decide exactly how deep a dive you want to take, though with a guide like Ruhlman at your side, that's most likely a mouth-first leap straight into the deep end."
— J. Kenji López-Alt

"One of the greatest pleasures of cooking with Michael Ruhlman's new book, From Scratch, is the ease with which it fits into your life. Ruhlman covers only ten meals, but he explores each one from several angles, starting with the simplest methods possible all the way to the most complex, showing readers that there are no straight lines (or absolutes) when it comes to cooking, only finding the way that is most enjoyable to you. Call it an anti–instruction manual if you will; his purpose is not to tell you how a certain dish must be created—whether it's lasagna or bread pudding—but rather to give you the tools and options to do it however you want. There is no benchmark to meet and no intimidation (but there is a meditation on potatoes); he's like a good friend joining you in the kitchen, and this book will certainly become the home cook's trusted companion."
— Thomas Keller